Yacht registration in Malta is a very straightforward process. Yacht owners who choose to register their vessels in Malta will avail themselves from numerous benefits that come along with the Malta flag. All the vessels' operations shall be covered by the laws of the Flag State. Malta caters for yacht registration of various types of vessels, depending on their intended use, such as private pleasure yachts, commercial yachts or passenger yachts.
Building on its long and varied maritime tradition, Malta, a member of the European Union, has today established itself as one of the leading maritime hubs and service centres in the Mediterranean region. Placed to become an international centre of excellence in the maritime industry, the island offers a whole range of international maritime services and facilities as part of a comprehensive package for the maritime industry.
Why register your yacht in Malta?
Whether the vessel is a Pleasure or a Commercial vessel, the yacht registration process in Malta is easy and simple. With a Maltese Flag, the Yacht owner can avail to a list of advantages, inter alia:
Low company formation and registration cost.
Complete

tax exemptions

, and benefits for owners, charters, and financiers of Maltese yachts.
No restrictions on the nationality of the master, officers and crew, serving on Maltese vessels.
No restrictions on the nationality of shareholders and directors of Maltese shipping companies.
No restrictions on the sale and mortgaging of Maltese yachts.
No trading restrictions.
Preferential treatment for Maltese yachts in certain ports.
Serious and efficient maritime administration.
Flag state inspectorate to ensure adherence to international standards.
Easy access to decision-makers within the competent authorities, backed by a qualified and efficient team of technical officers available for urgent matters on a 24- hour basis.
Sound multilateral and bilateral relations.
Active participation in international shipping fora.
Procedure for Yacht Registration in Malta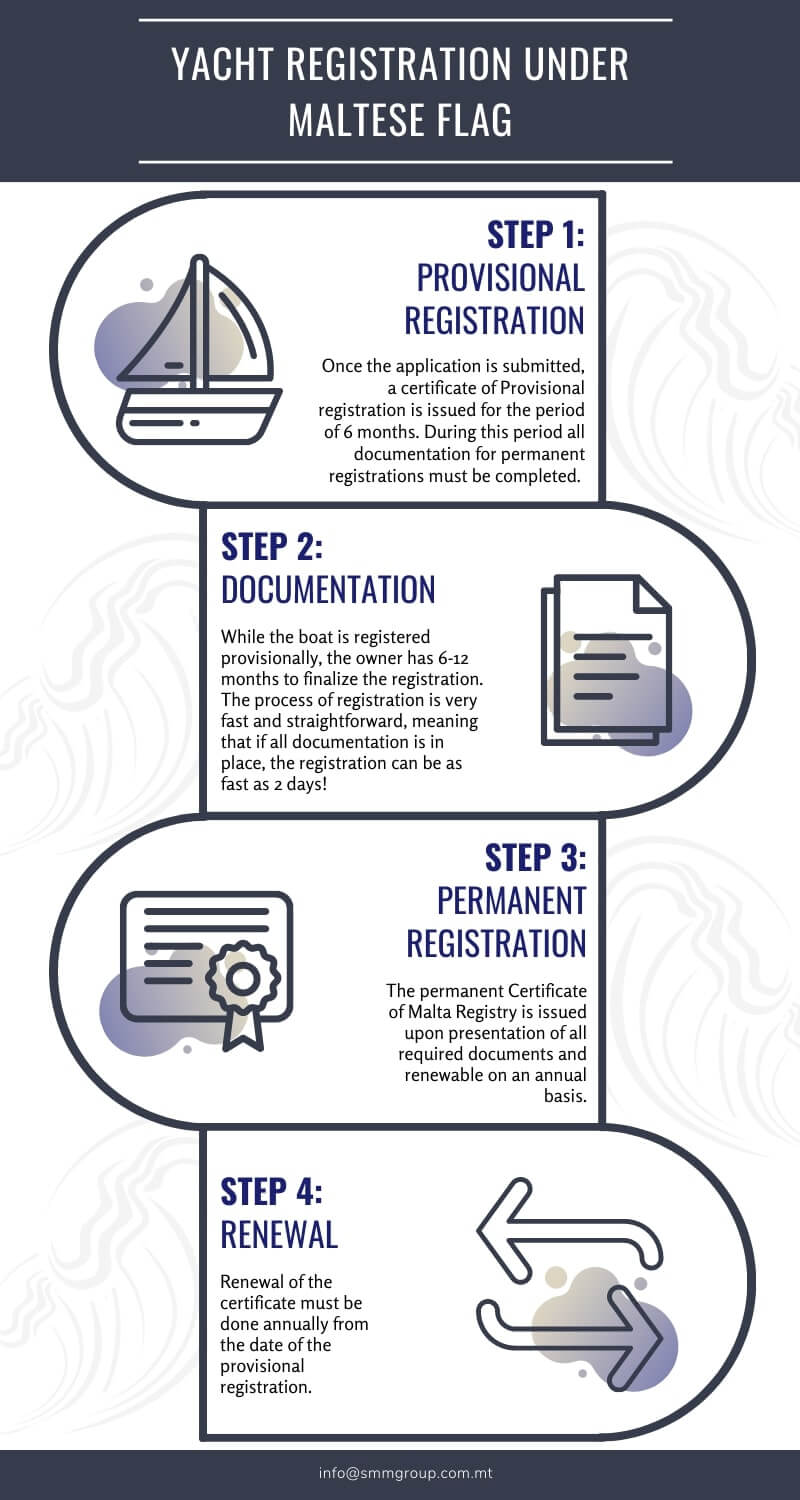 Any type of vessel can be registered under the Maltese flag be it a large cruise liner, or a private, commercial or passenger yacht, as long as it is wholly owned by a legally constituted corporate body or entity, irrespective of nationality, or by European Union citizen. Malta also provides registration for vessels under construction.
When vessels are owned by international owners, they can be registered in two ways:
By appointing a Maltese registered agent, in case if International Owner is an EU citizen or foreign company; or
By incorporating a Maltese company and registering the vessel in its name, in case if International Owner is a non-EU citizen.
Firstly, a vessel is registered in Malta provisionally. Upon issuance of the provisional certificate of registration, which is valid for 6 months period, the yacht owner has to provide the remaining required for the registration documentation. Once all the necessary documents are presented to the authority, the owner of the vessel is issued with the permanent certificate of Malta registry.
A permanent certificate of Malta Registry is subject to annual renewal on the anniversary of 1st registration.
Appointment of resident agent in Malta
The duties of a resident agent include but not limited to:
Applying on behalf of the international yacht owner, for the registration of a ship.
Liaising between the international yacht owner and the Maltese government departments and authorities.
Signing and filing all declarations and forms as required with the Maltese government departments and authorities on behalf of the international yacht owner.
Paying all the relative fees and taxes payable in terms of Maltese law.
Arranging for authentication of documents issued by the international owner.
Incorporation of a Shipping Company in Malta
It is also possible to incorporate a company under the Merchant Shipping (Shipping Organisations – Private Companies) Regulations. A Company shall qualify as a Shipping Company if its main purpose concerns the ownership, operation (under charter or otherwise), administration, and management of a ship registered under the Maltese flag or of a ship registered under the flag of any other state.
A Shipping Company incorporated in Malta also benefits from Malta's favorable 'Tonnage Tax' regime whereby the company shall pay a 'tonnage tax' instead of income tax on its profits.
In order to get an overview of the company incorporation procedure in Malta visit our Malta Company Formation page.
Bareboat Charter Registration
A bareboat charter refers to the lease of a vessel for a stipulated period of time, by virtue of which the charterer shall acquire full control and complete possession of the ship, including the right to appoint her master and crew for the duration of the charter.
During the stipulated period of the lease, the charterer may register the vessel in the bareboat charter registry under the name of the charterer and under the Malta Flag.
Bareboat charters registered in Malta will enjoy the same rights and privileges and have the same obligations, as any other vessel registered in Malta.
In order for the bareboat charter to be registered, the charterer must be a person qualified to own a vessel in Malta.
Yacht VAT – cost-efficient solutions for different types of yachts
How can we help?
SMM Group provides 360-degree support throughout the process of yacht registration in Malta, whilst allowing any Yacht owner to obtain a Maltese flag hassle-free and by providing all supported legal services through and forth.
Get in touch with us to register your private or commercial yacht under the Maltese flag. Fill in our contact form or reach our experts directly on +356 2123 7167 or via email at [email protected].